The world's leading bio-inspired consultancy offering innovation, education, and inspiration
At Biomimicry 3.8, we're driven by the fact that Life has an incredible amount to teach us about living well on Earth, in no small part due to the fact that it's been thriving here for 3.8 billion years. Our founders, staff, and providers work around the globe helping others use biomimicry innovate for a better world.
Explore what
inspires us
Vision
Vision
A world mentored and empowered by nature's genius.
B Corp
B Corp
As a Certified B Corporation, we meet the highest standards of overall social and environmental performance, transparency and accountability, and aspire to use the power of business to solve social and environmental problems.
Zeal
Zeal
When asked what motivates us in our daily work at Biomimicry 3.8, our team recognized these five values: Mission, Innovation, Community, Nourishment, and Discovery—with Mission being our top motivator.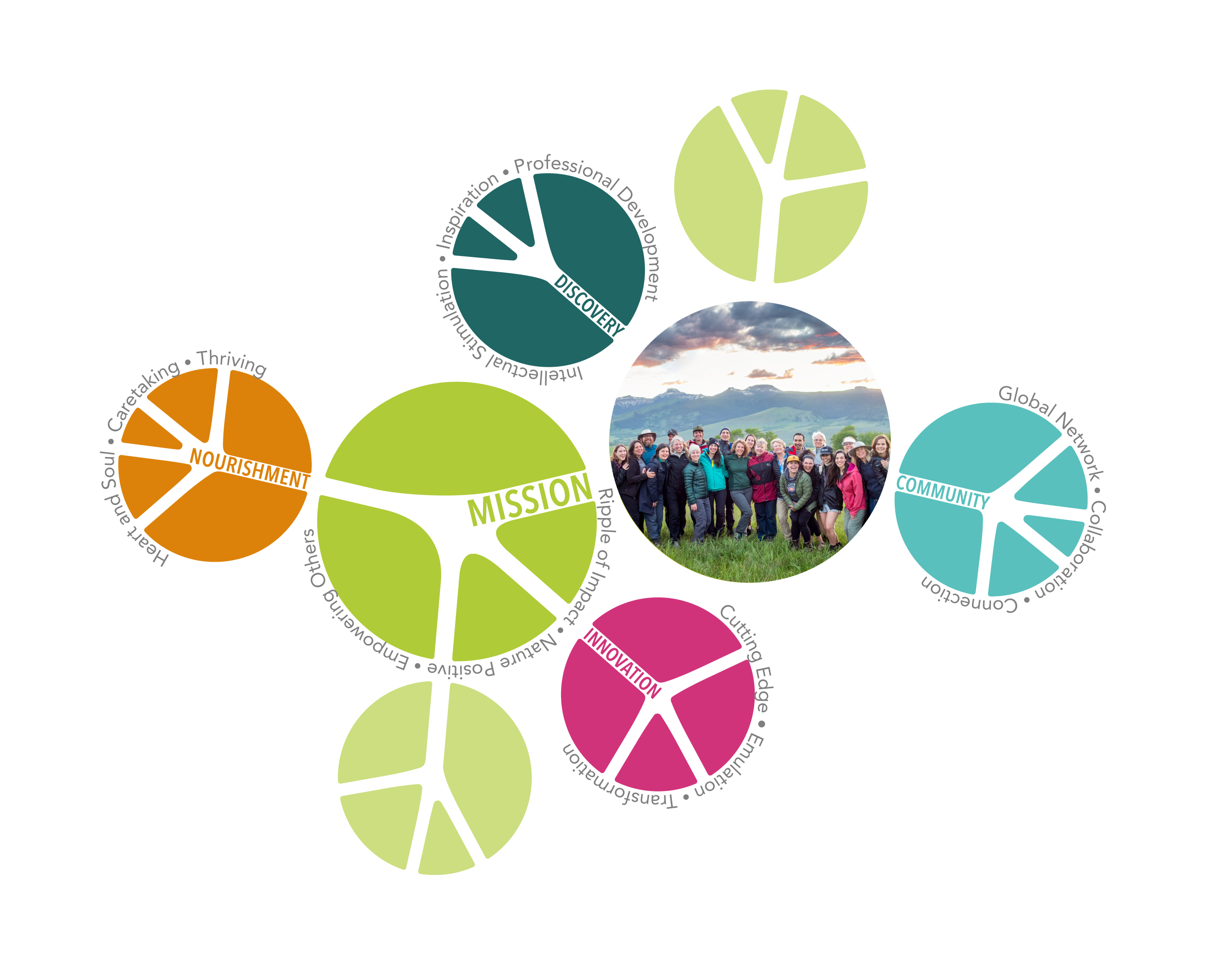 Simple Rules
Simple Rules
Take Care, Be Agile, Be Round, Be Impeccable
Purpose
Purpose
Help change-makers transform the world by emulating nature's designs and core principles. We provide nature-inspired innovation services, professional biomimicry training, and thought leadership from the founders of the biomimicry movement.
Core Values
Core Values
Abundance, Excellence, Agility, Humbleness, Hopefulness, Discovery, Openness, Innovation, Inspiration, Collaboration, Nourishing, Sense of Awe/Wonder, Generosity, Insightful, Trustworthy
Our biomimicry journey has been trending upwards since 1998, as we evolved to survive–and thrive—while helping to connect, train, and inspire using 3.8 billion years of evolutionary R&D.
Janine Benyus

Co-founder
Currently on sabbatical - Writing her next book!

Dr. Dayna Baumeister

Co-founder
Amanda Nummy

Biomimic | Materials Engineering

Anne LaForti

Biomimic | Project Management

Austin Watling

Information Technology

Brittany Jerlinga

Biomimic | Biology & Professional Training

Casey Rowland

Project Positive Manager

Cheyenne Lewis

Visual Communication

Chris Montero

Biomimic | Biology & Professional Training

Daphne Fecheyr-Lippens

Biomimic | Innovation

Dr. Dayna Baumeister

Biomimic | Co-founder

Emily Fricke

Operations

Eric Evans

Information Technology

Farid Mohamed

Biomimic | Geotechnical Engineering

Glenna Tawney

Events & Professional Training

Hannah Gimpel

Project Management

Jamie Wattnem

Accounting Support

Janine Benyus

Biomimic | Co-founder

Jessica Smith

Visual Communication

Katie Stabnau

Strategic Assistant

Maria O'Farrell

Biomimic | Biology & Research

Mark Dorfman

Biomimic | Chemistry

Melissa Fryday

Finance

Nick Heier

Biomimic | Innovation & Built Environment

Nicole Miller

Managing Director

Peggy Chu

Biomimic | Built Environment

Rachel Hahs

Biomimic | Systems Strategy

Seth GaleWyrick

Biomimic | Engineering & Design

Theresa Scott

Operations

Tina Miller

Marketing & Communications

Zeynep Arhon

Biomimic | Business & Brand Strategy
Network

Coming Soon
---
In short, asking the questions about how little things can work together on big problems is the core of biomimicry—and a fundamental feature of innovation.
— GreenBiz
▲ Back to Top